ServerPilot & RunCloud are tools that let you manage your server without dealing with (almost)any command-line interface. ServerPilot & RunCloud mainly focus on PHP applications.
These providers help you have faster hosting without paying high fees. This post will help users choose between the two providers. In their true essence, both the solutions offer managed cloud hosting on cloud servers that are complex to manage by any average joe.
This guide aims to make the whole process of the setup of cloud servers easier for the user. Therefore, we will focus on performance benchmarking, load testing, and head-to-head comparison of both ServerPilot and RunCloud. In the end, you will be able to make a conscious decision about which hosting service will best serve your needs.
So without further ado, let's get started.
The Setup for ServerPilot vs. RunCloud

We'll be focusing on WordPress in this article. There are many speed optimization services and speed optimization techniques to improve your website speed; hosting is a crucial factor. This post will set up two $2.5 VPS from Vultr, with the same configuration, same setup.
The only difference will be one installation will be done via RunCloud, compared to the other done via ServerPilot. We will be using website performance analysis tools like WebPagetest.org, GTMterix & Pingdom to compare the two.
We will use the Avada theme for our tests, one of the most sold WordPress themes, which is considered bloated(no offense). We will then import a demo and then compare the results of the two setups.
Setting up a VPS on Vultr
You can register on Vultr from here. Once you have signed up, setting up a server is pretty straightforward. Go to https://my.vultr.com/deploy/, and select the desired locations.
In this case, we will choose the server location as New York. Next, we pick the server OS as Ubuntu 16.04 x64 as both ServerPilot & RunCloud require the same.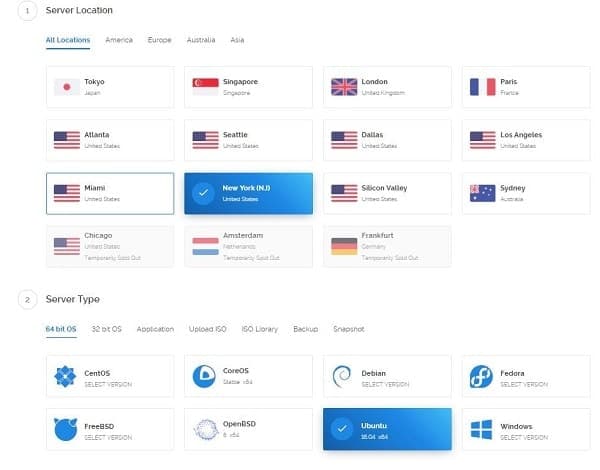 Next, we select the server size.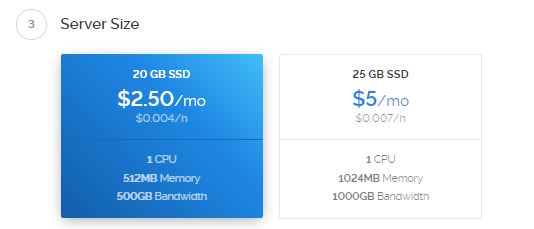 Once we have launched our instance, we need to install WordPress on ServerPilot & RunCloud.
ServerPilot & RunCloud Performance Results
Before installing the Avada demo, I would like to show you the default WordPress installation's performance results.
Default WordPress Installation Performance Results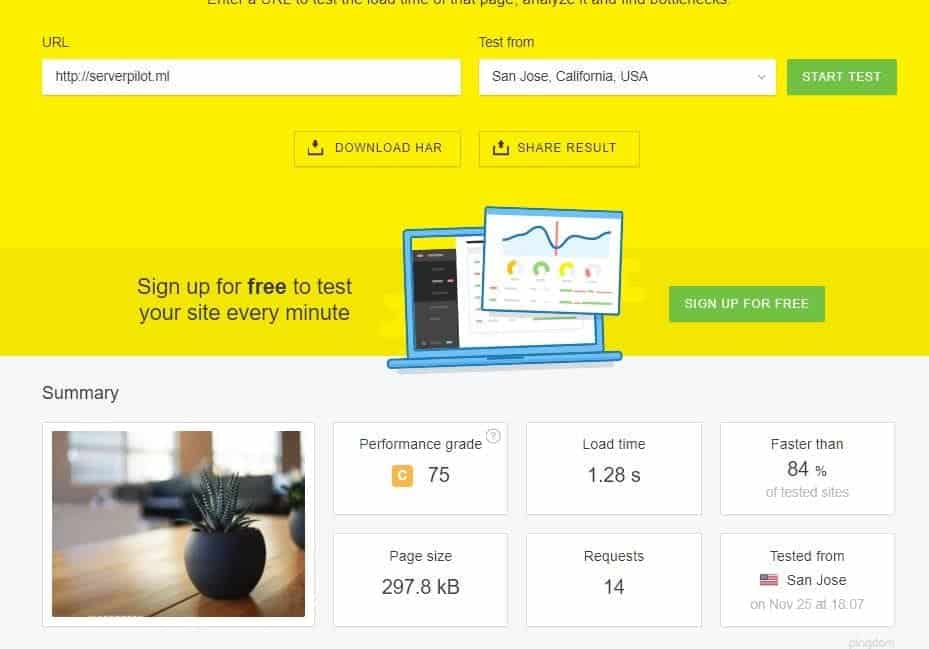 Pingdom Speed results for
ServerPilot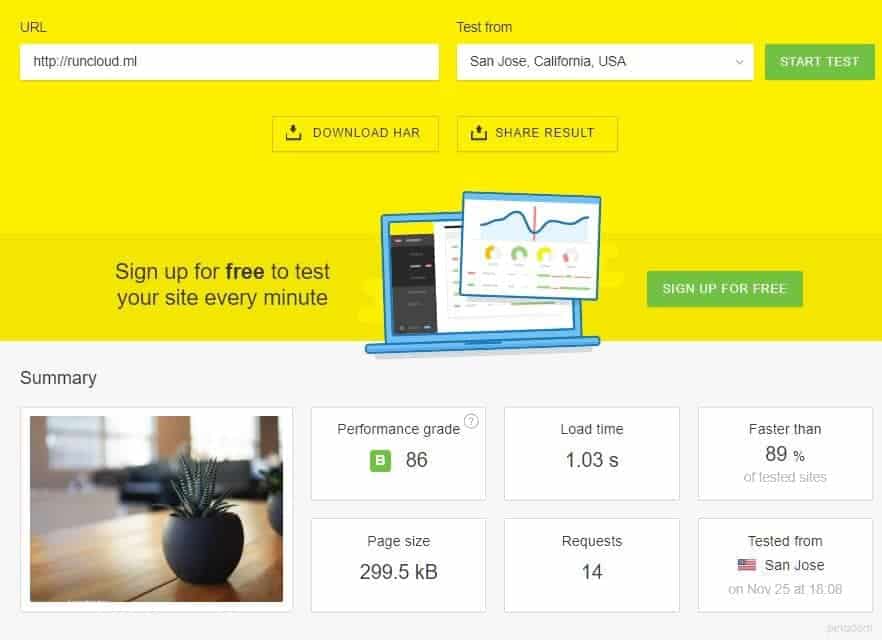 Conclusion for Default WordPress Installation Performance


As it can be noted, RunCloud outperforms ServerPilot in all the tests. Even though, ServerPilot is in the industry since 2012 compared to RunCloud, which in 2017.
Results using the Avada Theme Demo
GTmetrix Results
In this test, GTmetrix results differed a lot. At times I found RunCloud performing better, while at times, ServerPilot was taking the lead. But let's have a look at the test results: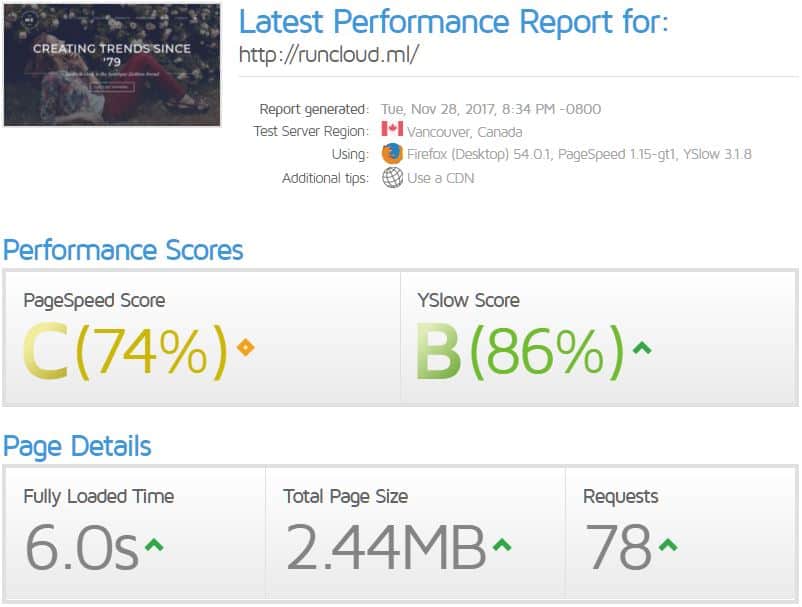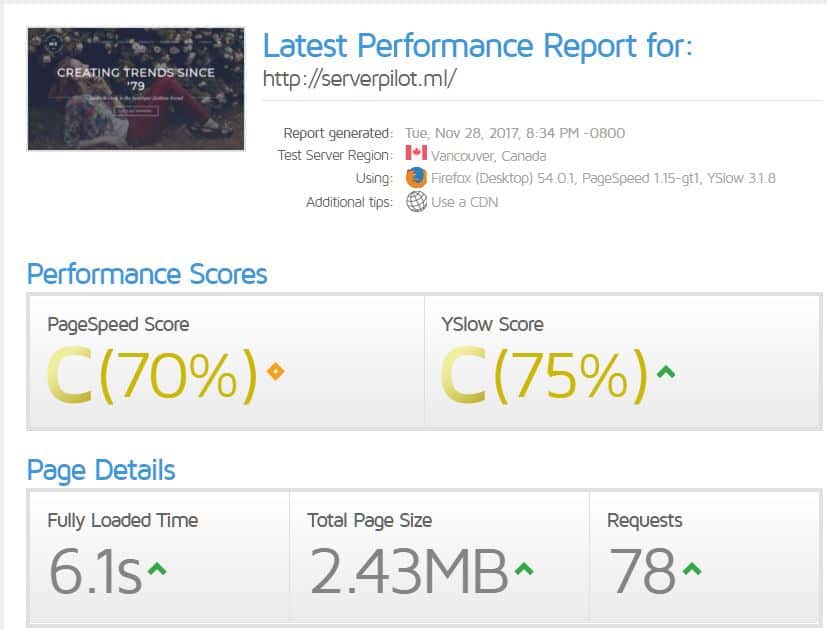 Note: There is no clear winner in the GTmetrix load test since in the next test, ServerPilot performed better. This kind of fluctuations happened in more than five tests. So nothing to conclude here.
Pingdom Results
Unlike GTmetrix, Pingdom results showed RunCloud performing better than ServerPilot.

RunCloud takes 1.58 s to load the Avada demo compared to ServerPilot, which takes 1.71 s. The difference is not much, but website speed is essential & there is no reason to ignore milliseconds.
To avoid any discrepancies, I did a retest & in the retest, too, RunCloud took lesser time to load the website.
Webpagetest.org Results

RunCloud.io Results
Document Complete
Fully Loaded
Load Time
First Byte
Start Render
User Time
Speed Index
First Interactive (beta)
Time
Requests
Bytes In
Time
Requests
Bytes In
Cost
First View (Run 3)
2.982s
0.346s
0.734s
4.250s
3156
> 4.057s
2.982s
46
2,242 KB
5.721s
81
2,509 KB
$$$$$
ServerPilot.io Results
Document Complete
Fully Loaded
Load Time
First Byte
Start Render
User Time
Speed Index
First Interactive (beta)
Time
Requests
Bytes In
Time
Requests
Bytes In
Cost
First View (Run 1)
3.042s
0.535s
0.900s
4.266s
3177
4.118s
3.042s
46
2,231 KB
6.139s
81
2,496 KB
$$$$$
As clearly, seen from the tests, RunCloud outperforms ServerPilot in almost any test. Also, a similar comparison performed by SitePoint proves the same.
Comparing Costs

Along with performance benefits, you also get better pricing options of $10+$1 for each app a server for ServerPilot vs. $15 unlimited servers from RunCloud Both of these are almost similar in pricing.
Let's see the price comparison between these providers and determine which is better if we consider the pricing only as a benchmark.
ServerPilot Pricing

RunCloud Pricing
1. ServerPilot Pricing

In the past, ServerPilot allowed its users to have a free account with limited features. They have updated their pricing plan and have three pricing packages, including Economic, Business, and First Class. Let's see about these packages and their pricing.
Economy: It allows you to use any PHP websites such as WordPress and Laravel. The price starting of this package is $5 per server $0.50 per app.
So it will cost you $5.50 per month. Moreover, you can also use additional features like Free SSL certificates, Server security updates, HTTP/2 support, API access, Multiple PHP versions, Database management, One-click WordPress installer, and many more.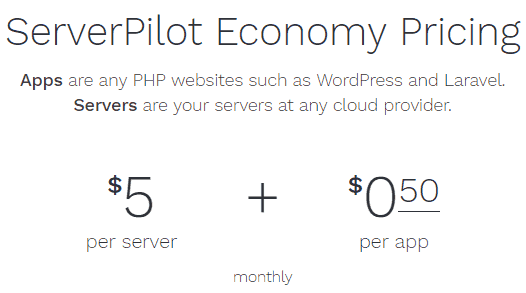 Business: Along with all the economy plan features, the business plan offers even more features to enhance usability. Fea servers to reduce app usage include .server and app resource usage statistics, a log viewer, and priority support.
The pricing start of the business plan is $10/server + $1/app.
First Class: Including all features of the Business plan and economy plan, of course, this plan offers you app request and performance statistics, slow script warnings, and high priority support. The pricing start of the business plan is $20/server + $2/app.


2. RunCloud Pricing

Now I am going to tell you about run cloud pricing. On RunCloud, they provide different packages such as Basic, Pro, and Business. They all have different features. Let see below one by one.
Basic – Room to grow: The basic plan will cost you $6.67/month. It will give you some extra features such as:
Allow using all the essential features

You can easily manage multiple users

It will provide you a Free SSL Certificate

It allows you to use file manager and cloud text editor

It provides you Cron job manager and 1 Click Hard Disk Cleaner

It allows you to 30 days Web Application data transfer stats

It provides you 24 hours server health data
Pro – Road to pro: The basic plan will cost you $12.5/month. It will give you some extra features such as:
Allow using all the essential features

Unlimited Connected Servers
Business – Advanced Features: The basic plan will cost you $37.5/months. It will give you some extra features such as:
Allow using all the pro plan features

You can manage your team with ACL

Atomic GIT Deployment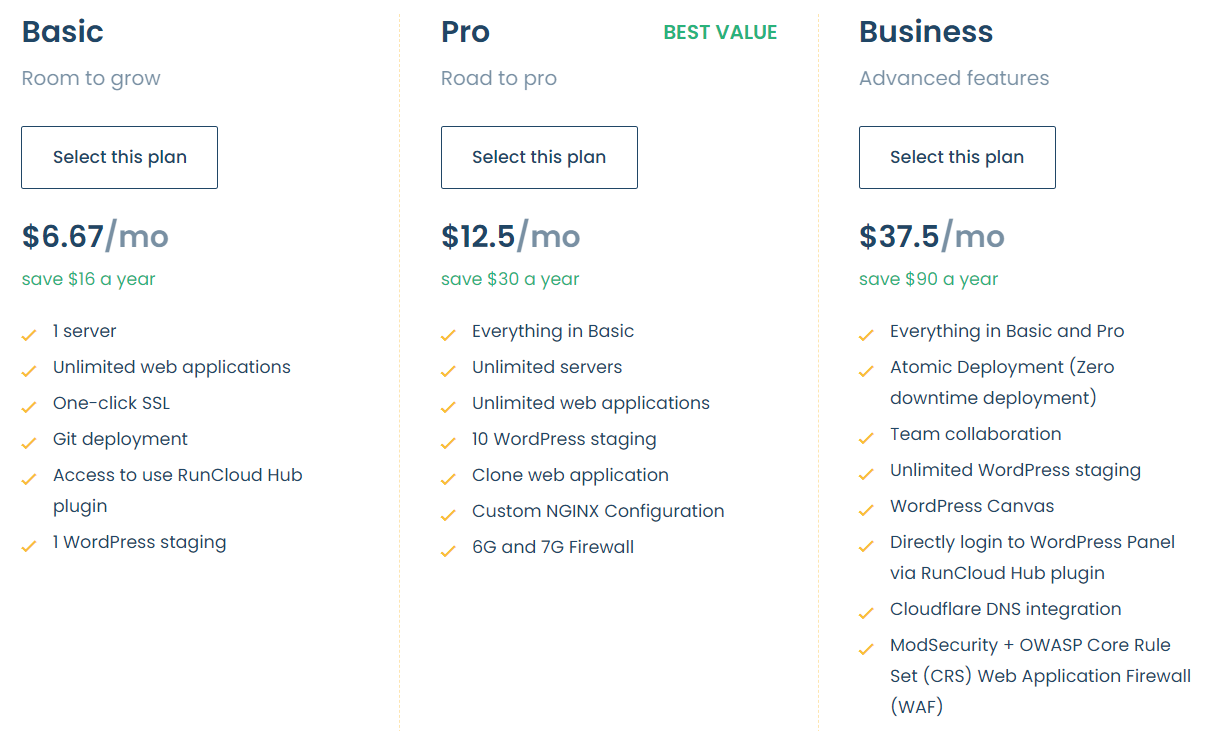 With the evidence in front of you, you can now easily decide what type of business you will be discussing. There's no reason I can see for one to choose ServerPilot over RunCloud. It is also worth mentioning that both providers offer free plans, which are worth considering.
Comparing User Dashboard
Let's see the user dashboard comparison between these providers and determine which is better
ServerPilot User Dashboard
By this point, I feel you would think I am being biased. I understand. But I will make you the judge this time.

RunCloud User Dashboard
It's their dashboard in 2017, and I have not made any edits to the image. Don't trust me? Check yourself!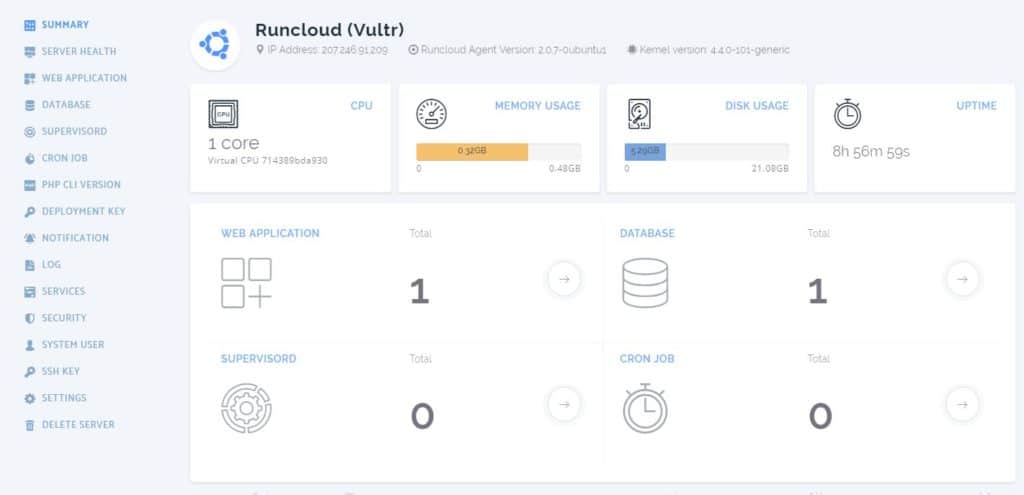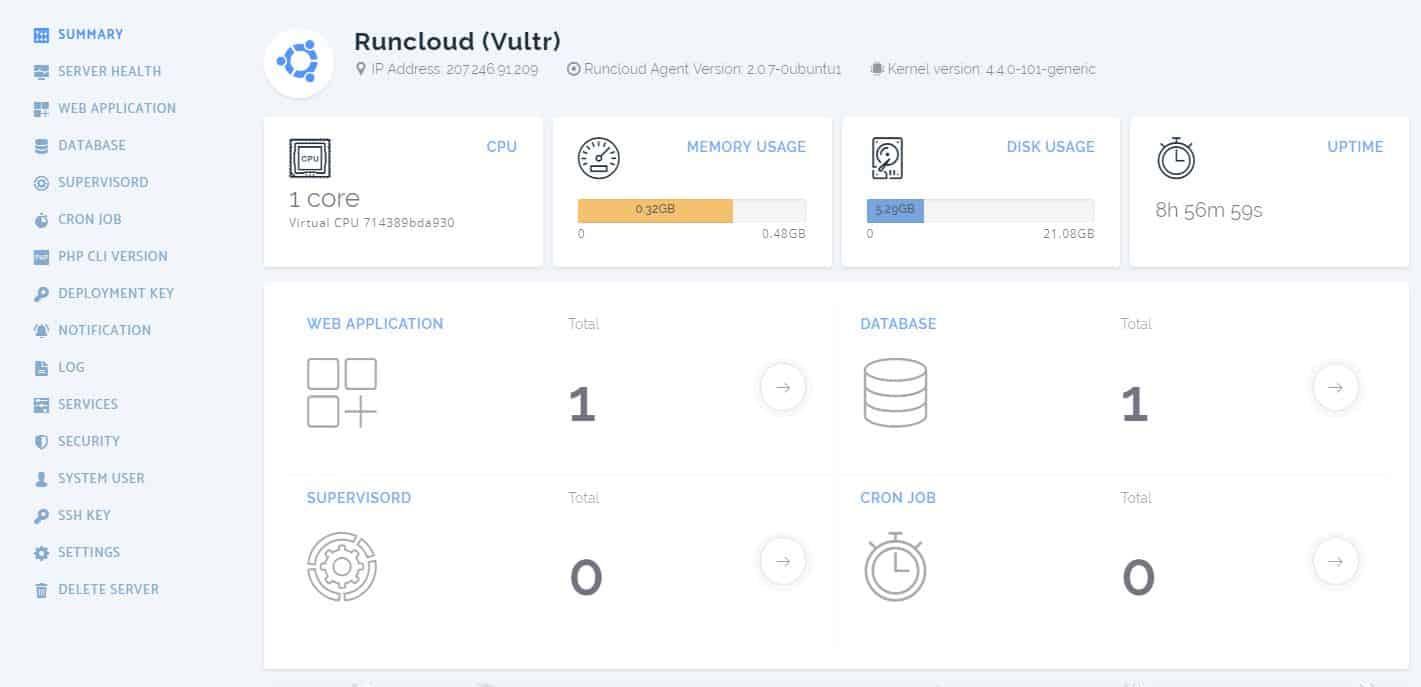 RunCloud's user dashboard seems simple, user-friendly & has some icons which will make it easier to find useful tools. I had issues creating an SFTP user, but the live chat person assisted me.
I would suggest they make some options clear, like adding an SFTP user, making SSH login optional for SFTP users, etc.
ServerPilot vs. RunCloud – Feature Comparison Table
It is essential to compare the features of both ServerPilot and RunCloud before you make a choice. We have listed the features of both cloud solutions and then compared them head-to-head. Keep reading.
ServerPilot Features
Here are the features of ServerPilot that make it a great choice for beginners.
Fast Install
One-click cloud deployment is what makes ServerPilot a great buy. Anyone who is looking to launch a website within minutes can do so with ServerPilot.
Instant Changes
Changing a server or its configuration is simple. You have the dashboard panel available. You can also get instant changes done if you request the ServerPilot support team. So, yes instant changes is a possibility.
Free SSL
SSL is crucial for every website now. Good thing is that ServerPilot also offers free SSL to its users. With free SSL, you can easily launch your website and make it secure.
HTTP/2
If you get HTTPS – which is a possibility with SSL – you also get HTTP/2. So, yes ServerPilot also offers HTTP/2 to its users.
Nginx Cache Support
Nginx cache support allows websites to load faster because of the high-end technology stack available. Nginx is a proxy for load balancing and website cache.
Firewall
You get a firewall for your server. This means your server can only be connected from users that are whitelisted to join them. Firewalls keep hackers, eavesdroppers, and cyber criminals away from your site.
Server Health Monitoring
ServerPilot offers contract health monitoring of all websites. It is not only a powerful way of securing site data, but it also monitors health, hardware and server status, and security of virtual and physical devices.
These are all the features that ServerPilot offers to its users. Now let's look at the features that RunCloud offers to its users. We will then compare each one of them.
Run Cloud Features

Here are the features of RunCloud that make it a great choice for beginners.
Instant Deployment
RunCloud works similar to ServerPilot and you can deploy a server instantly – almost within minutes- when using RunCloud.
Deploy Unlimited Applications
Another big benefit of using RunCloud is that you can deploy unlimited applications on your server. This is something that is not offered on a shared host so RunCloud is great in that aspect.
Autonomous Setup
RunCloud allows you to deploy urgent security measures such as patches and updates autonomously. No need to actively search for updates. They are updates as soon as they arrive in the market.
Constant Server Monitoring
RunCloud also offers constant server monitoring for site security, health, and traffic fluctuations. Moreover, you can also check site performance and intrusions through file logs. It is provided to you through the user dashboard.
Performance Driven Dashboard
RunCloud offers performance driven panels right on your dashboard. Now easily check what bottlenecks are arising and how to solve them within minutes. No need to wait for support to generate report when you get the whole picture in front of you.
Secure Management Panel
RunCloud offers 2FA (Two-Factor Authentication) to easily manage security. You can even add IP whitelist so that only verified users can login to the dashboard.
Virtual PHP Machine
You get unlimited number of PHP workers to work on your server requests. RunCloud doesn't limit the number of PHP machines that you can utilize for each server.
Constant Backups
The best part about using RunCloud is the constant backup service. The backups show up on your dashboard as soon as they are ready. Either migrate them to a third-party or download them to your local system.
Head-to-Head Comparison: ServerPilot vs RunCloud
| | | | |
| --- | --- | --- | --- |
| No | Features | ServerPilot | RunCloud |
| 1 | Fast Install | Yes | Yes |
| 2 | Instant Changes | Yes | Yes |
| 3 | Free SSL | Yes | No |
| 4 | HTTP2 | Yes | No |
| 5 | Nginx | Yes | No |
| 6 | Firewall | Yes | No |
| 7 | 2FA | No | Yes |
| 8 | Health Monitoring | Yes | Yes |
| 9 | Instant Deployment | Yes | Yes |
| 10 | Unlimited Apps | Yes | Yes |
| 11 | Autonomous Updates | Yes | Yes |
| 12 | Secure Management Dashboard | No | Yes |
| 13 | Unlimited PHP Workers | No | Yes |
| 14 | Constant Backups | Yes | Yes |
Final Conclusion
I still can't find any reason one would consider ServerPilot. Things like standalone NGINX support for WordPress weren't even compared in this article. RunCloud offers this right from the beginning. I don't say it's impossible to achieve this on ServerPilot, but it isn't straightforward to do so again.
It's not like ServerPilot is the cheaper alternative here. RunCloud is much cheaper compared to ServerPilot(unlimited server pricing vs. per server pricing). Still, RunCloud excels in most of our tests. I realized that while setting up the server was, ServerPilot gets deployed faster, but again, that's a one-time benefit. Ultimately it's the website speed that matters the most.
Have I missed something? What do you think? Let me know your thoughts in the comments!